How to Drastically Increase Your Income Streams
A step-by-step course for raising your travel blogging and freelance writing earnings this year.
If you've reached this page, it's because someone you know or follow referred you here for the 10% discount. Welcome!
The world of a travel writer can be lots of fun, but the glamorous dream of getting paid good money while traveling the world is not so easy to pull off in practice.
It took me a lot of trial and error lessons before I learned which steps would generate enough to live on and which were a waste of time. I found that much of the advice out there is either outdated, from people who are barely earning enough to get by, or more about getting famous on Instagram than making enough cash to invest and save.
The good news is, the old adage that "the perks are great but the money sucks" in the travel writing world has become less true this decade…for some that is.
The ranks of six-figure travel writers and bloggers are swelling like no time in history. Instead of this being a starving artist endeavor, a travel blog can now be the foundation of a platform that generates serious cash on a recurring basis.
The landscape has shifted dramatically in the digital age, producing a larger batch of travel writers, bloggers, and book authors making a comfortable living. For those willing to do it right and put in the work, there's no need to toil away for minimal money.
In this detailed course on how to step up your income, you will discover the following through 12 modules:
What six-figure travel writers do differently and how to supercharge your income streams.
How narrowing your focus can expand your earnings.
Where to look for low-hanging fruit for travel blogging income.
Where to look for low-hanging fruit for freelance travel writing income.
How to earn money while you sleep.
How to increase your hourly earnings when trading time for money.
How to publish a book that increases your authority and fattens your bank account.
Why going after direct deals is so much more profitable than just taking easy wins.
Vanity stats vs. money stats: what will really catapult your business forward.
Productivity tools, trips, and hacks for writers and bloggers.
Putting in a dollar and getting out four: investing in yourself and your business.
An action plan for true success: next steps to big earnings.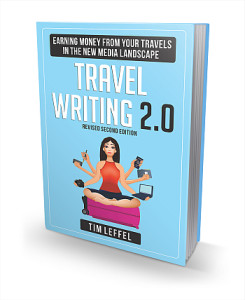 This advanced course draws on my knowledge, which I continually share through a blog, on stage, and through a book now in its second edition. It also draws on lessons learned from the most successful travel content creators on the planet.
You'll spend more than 12 hours going through this material. It's not meant for the lazy, the whiners, or those who spend more on lottery tickets than they do on advancing their knowledge. Travel Writing Overdrive is for the hustlers, the ambitious, and those willing to put in some sweat equity now for great rewards later. The rewards will be great—I guarantee it. You will see benefits before the course is even finished, but within a year you should be earning 20% to 100% more than you are now—far exceeding the cost of the course!
If you're in the latter camp, sign up and let's take a trip! Get your 10% discount below (regular price $198) and don't wait—enrollment closes February 28 at midnight.
| Product | Price |
| --- | --- |
| Travel Writing Overdrive - Referral Discount | $178.00 |